Album review in La Presse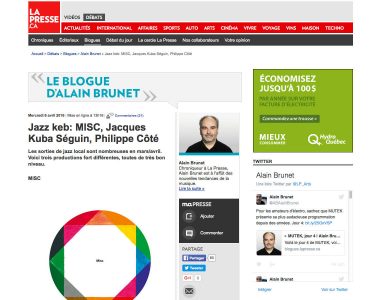 I'm honored to have Lungta reviewed in La Presse with 2 other great new jazz records. Check them out! Misc and Jacques Kuba-Séguin just released great sounding records.
(French Only)
ALAIN BRUNET, LA PRESSE
Jazz keb: MISC, Jacques Kuba Séguin, Philippe Côté
Les sorties de jazz local sont nombreuses en mars/avril. Voici trois productions fort différentes, toutes de très bon niveau.